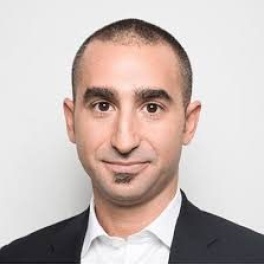 Ben Baroka

s
Founder & CEO at Sourcepoint Technologies Inc
Independent Board Director
Ben is a serial entrepreneur and angel Investor in start-up technology companies developing, transforming, and disrupting global business models. Currently CEO of Sourcepoint the first content compensation platform. Prior to Sourcepoint Ben ran Google's Global Marketplace Development team. Prior to Google Ben was the founding CEO of Admeld which was acquired by Google in 2011. Prior to the Admeld - Google transaction, Ben ran Advertising at JumpTV. Ben also spent 6 years at AOL running ad product development and operations.
Dr. Florian Heinemann
Co-Founder, Managing Director of Project A Ventures, an early-stage fund investing in, and building great digital companies.
Board Director
Florian Heinemann is co-founder and managing director of a Project A Ventures, where he is responsible for the areas of marketing, CRM and business intelligence. Before co-founding Project A, he was managing director of Rocket Internet holding the same areas of responsibility (2007-2012).
During his time at Rocket, he was mainly involved in TopTarif, eDarling, and Zalando/Bigfoot. Prior to Rocket, Florian was co-founder and managing director of JustBooks/AbeBooks being in charge of marketing and product (1999-2002, exit to Amazon). Then, he was co-heading the online marketing department of Jamba! and the online dating portal iLove (2003-2005, exit to Verisign). In 2006, he was co-founder of the online marketplace antibodies-online.com.
Florian has been an investor/business angel in more than 40 startups, e.g. AdScale, Ladenzeile, Netmoms, and Tradoria. Florian holds a doctorate's degree in innovation management/entrepreneurship from RWTH Aachen University, and a masters degree in business administration from WHU Koblenz.
Kevin

Tan
Chairman & CEO
Kevin Tan is an accomplished entrepreneur and advertising and marketing technology leader with over 20 years of global experience. As Co-Founder and CEO of Eyeota, he oversees the company's vision and strategic direction.
Prior to building Eyeota in 2010, Kevin was among the leadership team at Adify, which was acquired by Cox Enterprises in 2008. Kevin's other notable positions include VP of advertising sales and sponsorships for Viacom/MTV Asia-Pacific; CEO and founder at iamasia (the leading internet audience measurement company in Asia); and managing director at Taylor Nelson Sofres China. He has also worked for AC Nielsen and has consulted for leading international digital marketing, advertising, market research and audience data companies.
As an authority on the global audience data landscape and programmatic ad buying, Kevin frequently presents at industry conferences, including Cannes, dmexco, ATS Singapore, Web Summit, I-COM Global Summit, among others.
Kevin received dual Bachelor of Arts degrees in Computer Science and Political Science and a certificate in Film Studies from Duke University.
Kristina

Prokop
Co-Founder and Board Member
For nearly 20 years, Kristina has been on the forefront of digital marketing and online advertising in Europe, bringing new advertising technologies and business models to market. At Eyeota, she has pioneered quality audience data as a cornerstone of the European advertising and marketing ecosystem and drove programmatic innovation. Kristina is a global thought leader and a frequent speaker at advertising and marketing events, including dmexco, the premier conference and expo for the global digital economy, and d3con, Germany's largest event on the future of digital advertising. Previously, Kristina was VP at Adify (sold to Cox Enterprises), where she was instrumental in helping European publishers build and launch their vertical ad network businesses.
Laurent

Samama
Partner at Jolt Capital
Board Director
Laurent Samama has experience across large corporations and dynamic start-ups. His experience as a senior manager includes serving as VP Business Development with Orange, Country Manager for France with both NEC and Nokia, and also as Global Business Unit Manager with Nokia.
Laurent has also held executive positions with smaller technology companies (DxO Labs, Coronis Systems, Varioptic) where he experienced all stages from growth to exit including, equity raising, technology development, commercial expansion and trade sale. Laurent's business experience centres on IT (networks, mobiles, software, chips & components) and Clean Tech (renewables, smart grid, energy efficiency). He graduated from Telecom Paris Tech and won the French Digital Technology Manager award in 1998.
Laurent is currently a board member of, Eyeota, CommProve and also Alpha MOS (ENXTPA: ALM).