What can marketers learn from Eyeota's

Eye On: Retail

report?
The majority (51%) of global retail data spend in 2018 and Q1 2019 came from restaurants/food services (17%), home/garden (17%), and apparel/footwear (17%) advertisers.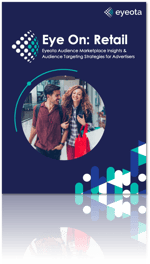 In Q4 2018, 24% of retail data spend came from Apparel & Footwear advertisers, up from 13% in Q3 2018, demonstrating that apparel & footwear purchases are expected to increase around the holidays.
In October 2018, 63% of shoppers were "deal hunting" for early deals* (i.e. online price comparison, coupons, etc.), and retail advertisers responded by focusing on Intent-based segments to reach those lower-funnel deal shoppers.
When comparing the demographic composition of two retail sub-sector audiences (Consumer Tech and Luxury shoppers) and one behavioral segment (Online-Preferred shoppers), similarities exist between those sub-sectors and online-preferred shoppers, perhaps confirming shifting consumer preferences and the impact that e-commerce has had on those retail sub-sectors.
The
Eye On: Retail
report is a must-read for retail brands as well as advertisers looking for new, more effective audience targeting strategies.
Download it now to learn more about how leading retail advertisers reach their target audiences.