As the financial services landscape continually evolves, it is critical for brands targeting financial services consumers to reach the right audiences at the right time.
DBM Audiences deliver a wide range of financial services audience segments: from Australians who use Buy Now Pay Later, to people seeking a new home loan or even businesses wanting to replace their current lending arrangements.
DBM Audiences are powered by up-to-date and highly accurate data from the award-winning DBM Atlas survey, providing extra confidence that brands will reach the right segments at the right time.
Download the DBM Atlas Financial Services Audience Playbook now to discover the addressable digital business and consumer audiences you need to drive awareness and engage online consumers.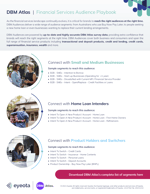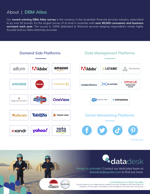 Download the DBM Atlas Audience Playbook by completing the form below.