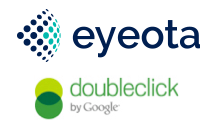 Eyeota, a leading international audience targeting data technology company for agencies, advertisers, and publishers, announces it is now a Google certified DMP partner.
Google has certified Eyeota as an approved third party data vendor to run on DoubleClick Ad Exchange.
This is exciting news for Eyeota clients who can now effortlessly activate their data in the Google ecosystem. Eyeota DMP clients can push their data directly into DoubleClick Ad Exchange.
Certified vendor status for DoubleClick Ad Exchange is only granted to companies that have developed solutions and services compatible with the next generation of DoubleClick for Publishers (DFP). Eyeota joins the ranks of a small, global group of advanced DMPs that have been carefully vetted by Google to help publishers, brands and advertisers meet a diverse range of business objectives.
Eyeota's DMP technology has exceeded Google's requirements and is a champion source for third-party audience targeting data for advertisers and brands across Australia, Europe and the Asia-Pacific region.
"We are thrilled to be leading the way across international markets," says Kevin Tan CEO of Eyeota. "It's a testament to our talented teams based locally across APAC and Europe and our advanced DMP technology that we are now a DoubleClick Ad Exchange certified partner."


About DoubleClick Ad Exchange by Google
DoubleClick Ad Exchange is a real-time marketplace that helps ad networks, agency holding companies, and emerging third-party technology providers maximize ROI across millions of sites.
Buyers can increase return on investment through targeting, defined bids, defined budgets and frequency caps on inventory purchases. You define your audience so you are only buying what you want and when you want it. A true, open real-time bidding system enables buyers to leverage their proprietary data and bidding algorithms for even more control over media spend.
To learn more, visit www.google.com/doubleclick/

About Eyeota
Eyeota is the leading international audience-targeting data technology company. The Eyeota DMP is proprietary, next-generation DMP technology platform which helps agencies, advertisers, and publishers collect, analyze, augment and activate their audience data. The Eyeota DMP is connected with the largest programmatic ad buying platforms and local sources of third-party data across APAC and Europe.
Eyeota has offices in London, Berlin, Singapore and Sydney.
For more information, visit www.eyeota.com
Press Contacts:
Eyeota:
Laura Keeling - Marketing Manager
Email: lkeeling@eyeota.com
Phone: +65 8606 4106