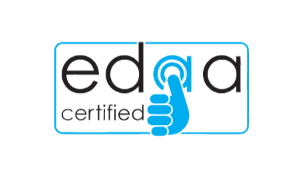 LONDON, 8 JULY 2015: Eyeota has received the EDAA Trust Seal from independent industry Certification Provider ABC for the second year in a row, demonstrating its continued compliance with the EU Self-Regulatory Programme for Online Behavioural Advertising (OBA).
Earning the Trust Seal is the all-important step in the process for businesses committed to the Programme administered by the EDAA. The EDAA Trust Seal demonstrates that an independent check has been successfully completed each year confirming that they comply with agreed best practice for dealing with behavioural data when delivering advertising online. Providing this assurance is vitally important to the confidence and trust of consumers and business partners alike.
As the global leader in local audience data, Eyeota works only with non-personally identifiable information. We are associated with numerous data privacy associations - certified by the European Interactive Digital Advertising Alliance (EDAA), compliant with IAB industry standards as well as being an IAB member. Users can choose to opt out directly at http://www.eyeota.com/privacy/opt-out/ or www.youronlinechoices.com.
Kevin Tan, CEO at Eyeota, says: "We are proud to receive the EDAA Trust Seal for the second year in a row. Eyeota is committed to our partnership with more than 30,000 publishers in collecting audience data, and will strive to continue providing high-quality data whilst staying true to best practices throughout the data collection process."
Jan Pitt, Executive Director of Client Services at ABC comments: "We are delighted once again to issue the EDAA Trust Seal to Eyeota having provided them with a robust and independent certification service. Their continued certification demonstrates both their expertise and commitment to working to industry-agreed, best practice standards. Independent certification helps to raise standards across the industry, providing Eyeota's clients with greater confidence in their systems and processes."
[ENDS]
About Eyeota
Eyeota is the global leader for local audience data with over 1 billion unique profiles. Eyeota provides marketers with the data they need to reach the right online audiences and cut campaign waste whilst also enabling publishers to monetize their audiences more widely. In addition, our data delivers deep audience insight to both marketers and online publishers to help them understand their customers in a new way – as human beings. Eyeota supplies third party audience data to all major global and regional ad buying platforms, trading desks, DSPs, DMPs and ad networks. The company was founded in 2010 and has offices in London, Berlin, Düsseldorf, Singapore and Sydney. For more information, please visit www.eyeota.com.
About ABC
ABC inspires confidence in the market across the media world by delivering a valued 'stamp of trust'. ABC underpins the way billions of pounds worth of advertising budgets are traded across the converging media landscape in the UK and beyond. It has two roles:
To bring the industry together to agree standards that define media measurement and determine best practice.
To offer independent audit and compliance services, delivering certification which verifies that data and processes meet the industry-agreed Reporting Standards.
ABC is governed by the industry, for the industry. ABC's board consists of advertisers, media agencies, media owners and trade bodies. They represent the differing interests of the media industry and meet regularly to agree new standards and make strategic decisions as to how ABC is run. With Board consensus, ABC has the ability to provide certification for any platform. As advertising platforms develop, ABC continually innovates and evolves to ensure its portfolio of products and services delivers to the media industry's needs.
ABC was established in 1931 and is a founder member of the International Federation of ABC (IFABC), of which ABC CEO, Jerry Wright, is president. Richard Foan, Group Executive Director of Communication & Innovation, ABC, also chairs the IFABC Web Standards Group, which works to deliver global standards and establish digital good practice across the world.
About EDAA
The European Interactive Digital Advertising Alliance (EDAA) is a non-profit organisation based in Brussels and is responsible for enacting key aspects of the self-regulatory initiative for Online Behavioural Advertising (OBA) across Europe. EDAA principally acts as the central licensing body for the OBA Icon and provides technical means for consumers to exercise transparency and control over OBA through the youronlinechoices.eu online consumer choice platform. EDAA is governed by EU-level organisations which make up the value chain of OBA within Europe and acts to ensure European consistency in approach. More information can be found at: www.edaa.eu