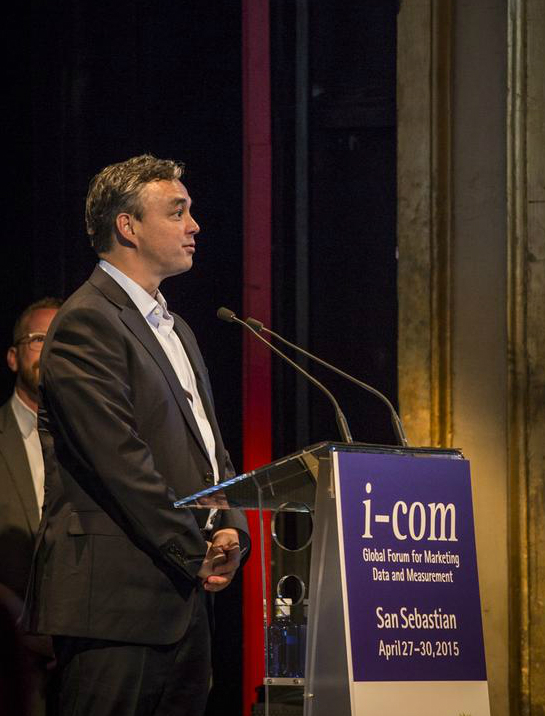 Eyeota sponsored the Data Creativity Awards at the i-com summit in Spain recently. This was the 3rd edition of the Data Creativity Awards, which acknowledges the most creative people & companies in achieving business value by leveraging value from data.
Kevin Tan, CEO at Eyeota, spoke about Data and Creativity at the gala dinner. Here is his speech:
Data & Creativity
"For decades, creativity has given life to the most inspiring and successful marketing campaigns. Whether that is Audi's tagline Vorsprung durch Technik, Kmart's 'Ship my Pants' or Dove's Real Beauty Sketches, creativity has played a key role in these celebrated campaigns of the world's biggest brands.
Yet, while companies embrace their creative successes, consumers are becoming increasingly demanding. They want to be 'wowed' on a consistently bigger scale and the opportunity to do this has to start with clever and imaginative uses of data.
The chances are the more creative risks you take, the margin for error gets bigger. A disastrous global example would be 'New Coke'. In the 1980's Coca-Cola decided that it would replace the original formula of its flagship drink. Whilst it was a bold new creative direction, the problem was that the company did not understand its customers. They liked Coca Cola just the way it was. Sales plummeted and Coca-Cola was forced to reintroduce its original formula as 'Coca-Cola Classic'.
'Knowing your audience' might feel like an overused mantra but this example, more than any other, embodies just why it is so important. Instinct alone, whilst a key attribute of any marketer, cannot guarantee success.

Data and creativity – are we at the point in time when they are now a match made in heaven?
In our modern world of multi-channels, marketing automation and advertising technology, data is more important than it ever has been. And that data has to used creatively and imaginatively to deliver campaigns that resonate with customers and delivers results. And I'm not just talking about creativity in relation to art direction or copy, but also in research, software development and media planning, which is what we are celebrating here today.
Media agencies now have access to a growing number of rich data signals —contextual data, audience and demographic data, location data, intent to buy and much, much more. Forward thinking media agencies are using programmatic platforms and data insights to guide and shape the creative process from start to finish. Previously, agencies could produce a handful of creative executions that would be used for print, outdoor and TV but with the rise of digital marketing, agencies now need to be able to deliver targeted creative across the right channels at the right time and to the right audience. This can run into hundreds of executions – all based upon data-driven decisions.
Data provides brands and agencies the opportunity to know more about their customers than ever before. In turn for providing this data, consumers are generally happy to be targeted in the right context. What annoys consumers is something that is completely irrelevant and has no bearing on their lifestyle, previous interactions with the advertiser or their path to purchase.
That is why data has become such a key element of campaign planning, providing focus for creativity. Without it, brands could either take too many or too few risks. Whilst data was a daunting addition to the marketing mix a few years ago, marketers have become smarter about how they distil vast quantities of information in order to generate the information they need. Brands, and their agencies, that invest time and energy into the understanding the data they possess on consumers will be rewarded with improved campaign results.
Brands can use their data to understand consumers as human beings and to showcase a more personal side. Data sometimes reveals surprising discoveries that can inspire brands to think about their customers in a new way and therefore can get more creative with their strategy. Insights, modelling and segmentation work are all driven by data - helping brands to deliver a more personalised experience. Data is now optimising user experience and enhancing digital experiences for consumers.
Media agencies possess the data tools to help brands make better decisions around advertising spend. Data is the way in which agencies can remove uncertainty from the decision making process and it can enable greater creativity by giving clients confidence when approving braver ideas.
Brands possess a wealth of data relating to a consumer's path to purchase, yet this vastness of data can become diluted. In a multi-device, multi-screen world, creativity and data go together like Google and search; combined they ensure campaigns inspire and engage the right audiences, at the right time via the right device. Using data creatively can make this happen."