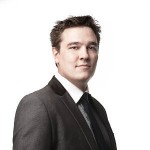 SINGAPORE, 5 May 2015: Eyeota - the global leader for local audience data with over 1 billion uniques from publishers across Asia Pacific, Australia, Europe and the Americas - is growing and hiring senior staff in line with its expansion.
Aaron Jackson has joined Eyeota as Head of Data Acquisitions & Partnerships based in its London office. In his new role, Jackson will focus on helping publishers and offline data owners activate and monetise their audience data assets online.
Jackson brings with him a wealth of experience across Asia Pacific. Prior to his current appointment, Jackson spent the last three years working in Southeast Asia. He was based in Singapore as the Southeast Asia Managing Director of Effective Measure, a leading provider of digital media planning solutions in emerging markets.
Jackson also worked in Kuala Lumpur, Malaysia as the General Manager of Lighthouse Media, where he oversaw the print and digital versions of Marketing magazine and Human Resources Magazine.
His move to Southeast Asia was brought about by his experience in Australia working for long established publication house Niche Media, which owns Marketing Magazine Australia and various other industry leading Australian titles where he was the National Advertising Manager.
Commenting on his new role, Aaron Jackson, Head of Data Acquisitions and Partnerships at Eyeota, says: "I am very excited about the opportunity with Eyeota. It was clear even prior to joining Eyeota that the strategic direction and high level of proprietary technology differentiated Eyeota from its competitors. This opinion has grown stronger since joining the team.
"It is important for publishers and data owners to get the best out of their data. It is my aim is to help these partners in all local markets across Europe to activate and monetise their data in the programmatic space. This will ensure that their data is working hard for them both internally and externally, while ensuring Eyeota has the most accurate and robust data in the market."
Kevin Tan, CEO at Eyeota, says: "We are excited to have Aaron join the Eyeota team. With his years of expertise across various regions, he will play a large role in further enhancing our existing data sets. Eyeota aims to continue what we do best as a specialist data provider, and strive to maintain our position as the global leader in high quality, in-depth local audience data."
[ENDS]

About Eyeota
Eyeota is the global leader for local audience data with over 1 billion unique profiles. Eyeota provides marketers with the data they need to reach the right online audiences and cut campaign waste whilst also enabling publishers to monetize their audiences more widely. In addition, our data delivers deep audience insight to both marketers and online publishers to help them understand their customers in a new way – as human beings. Eyeota supplies third party audience data to all major global and regional ad buying platforms, DSPs and ad networks. The company was found in 2010 and has offices in London, Berlin, Düsseldorf, Singapore and Sydney. For more information, please visit www.eyeota.com.